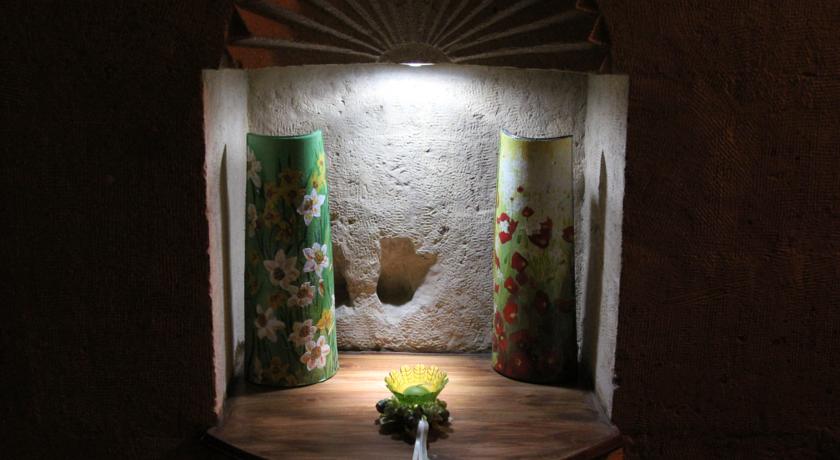 Ortahisar ilçesinin merkezinde yer alan Hestia Filiz Pansiyon, eşsiz bir mimariye sahip 2 katlı taş binada hizmet vermektedir. Pansiyonun terası şehrin ve Ortahisar Kalesi'nin manzaralarına sahiptir. Hestia Filiz'in ahşap zeminli odaları, geleneksel tarzda dekore edilmiştir. Isıtma sistemiyle donatılmış odalarda TV ve ücretsiz Wi-Fi erişimi mevcuttur. Duşlu banyolarda tuvalet, saç kurutma makinesi ve terlik bulunur. Bazı odalarda vadi manzaralı özel balkon vardır.
Pansiyonda sabahları kahvaltı tabağı servis edilir. Yerel yemekleri tadabileceğiniz restoranlar yürüme mesafesindedir. Devasa bir peri bacası olan tarihi Ortahisar Kalesi, pansiyona yalnızca 100 metre uzaklıktadır. Şehrin etrafında çok sayıda tarihi kilise vardır. Nevşehir Kapadokya Havaalanı ise 45 km uzaklıktadır.
Airport Shuttle *
Breakfast in the Room
Bridal suite
Car Park
Fax/Photocopy
Hairdryer
Honeymoon Suite
Ironing Service
Laundry
Room Service
Transfer Service *
Wi-Fi Internet Connection
Designated Smoking Area
Flat-screen TV
Garden
Heating
No pets allowed
Terrace
* Marked services are not free of charge.
38.62,34.86
ha
11776
Hotel/ha.11776-Hestia-Filiz-Hotel